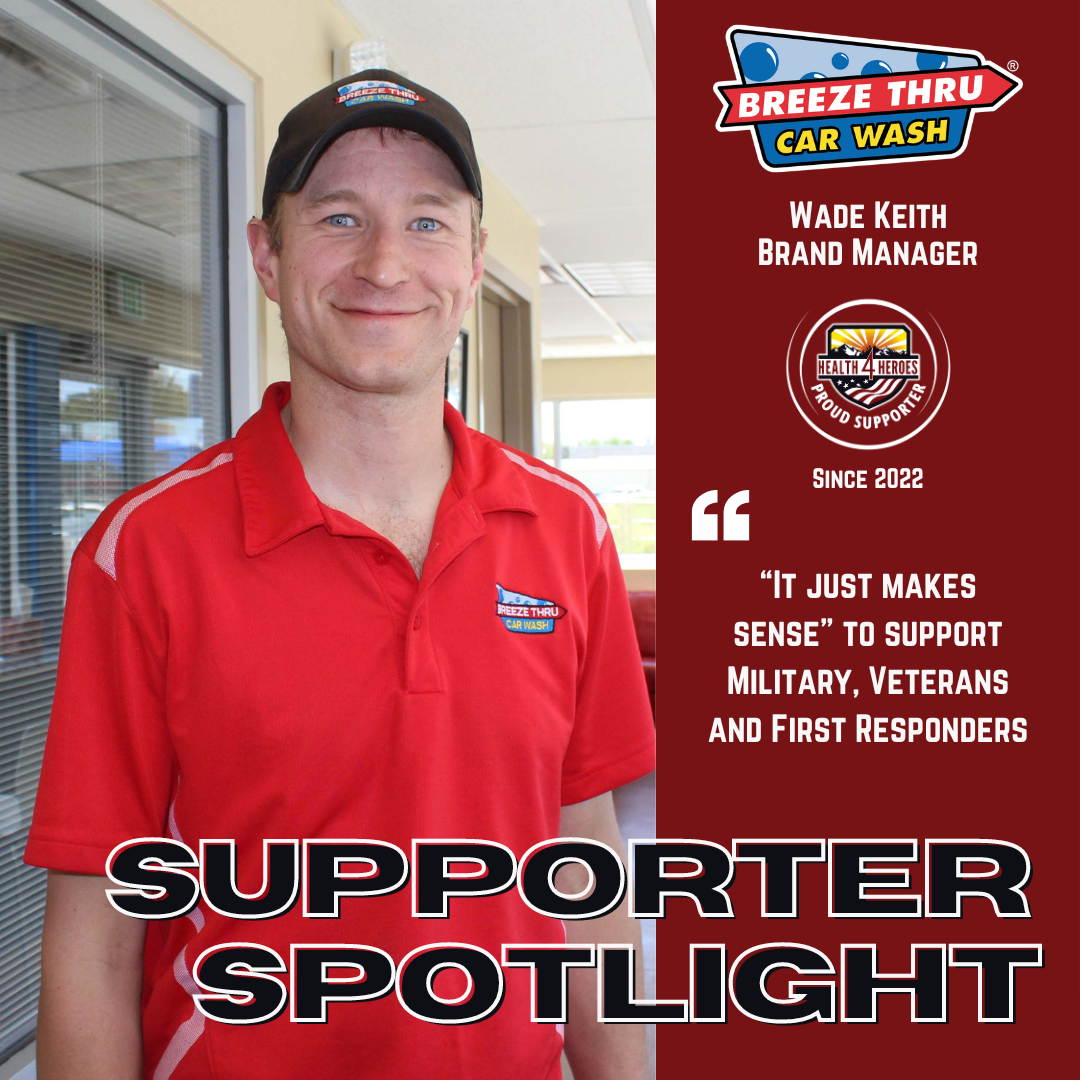 Breeze Thru Car Wash
Wade Keith - Brand Manager
Proud Supporter since 2022
Breeze Thru Car Wash is a locally owned and operated franchise in northern Colorado and southern Wyoming that "lives and dies by our mission," in the words of Wade Keith, their Marketing Executive. Breeze Thru strives to seek out and develop team members with an interest in professional and friendly values. They focus on being an excellently run car wash company that prepares people for the future and provides for the community. As one proof of that commitment, Breeze Thru offers an option for employees to live in corporately-sponsored apartments to help them get on their feet and learn how to live in the world. Additionally, Breeze Thru offers apprenticeships that can lead to an Associates Degree in Management for their people. "Support systems inspire me," Keith says. And because of inspiration such as his, Breeze Thru Car Wash is a major supporter for Health4Heroes.
"It just makes sense" to support Military, Veterans and First Responders, says Keith. "We hire vets, our COO is ex-police, and we like to provide for the community." In addition to that corporate commitment, though, Keith has a personal story that influences his own pull toward organizations that build community. Several years ago, Keith suffered from a freak injury that introduced a life-threatening bacteria into his spinal cord. Before discovering the bacteria, he had been an extreme sports fan and guide, even planning a multi-state kayaking challenge. Then in one day, everything was gone. "It was the fear of not knowing that got me," he says. "I didn't know if I would be able to do anything again. I didn't know if I would be permanently disabled." And he didn't know what steps he could take to possibly build himself back up.
That's when, through a combination of determination and happy chance, he slowly built up his own support network of other kayakers. Before embracing this network, he says, he worried that he would get stuck in a life-threatening situation or maybe harm others if he tried too many things. "The worry was making me die earlier." But then, "it was a definitive moment for me," he says, "when I realized I have a tribe looking after me." Because of that tribe, he didn't have to worry anymore. He could risk and trust his people to catch him when he fell. That's why he fights to help support organizations that offer community for anyone who might be in threatening situations like he has been. "You never know what someone is going through." For example, Wade Keith is neither a Veteran nor First Responder. But he does understand the power of support networks like Health4Heroes offers. "I may not know how to help a person, but I want to support the people who do know how to help." Helping and serving others "gives me purpose," says Keith.
Wade Keith specifically wants Veteran and Active Duty members of Health4Heroes to know that all Breeze Thru Car Wash storefronts will give free car washes to all military all day on Veterans Day. "We support you 100%." For more information about Breeze Thru, go to: breezethrucarwash.com or just stop by any of their 14 locations throughout the area.