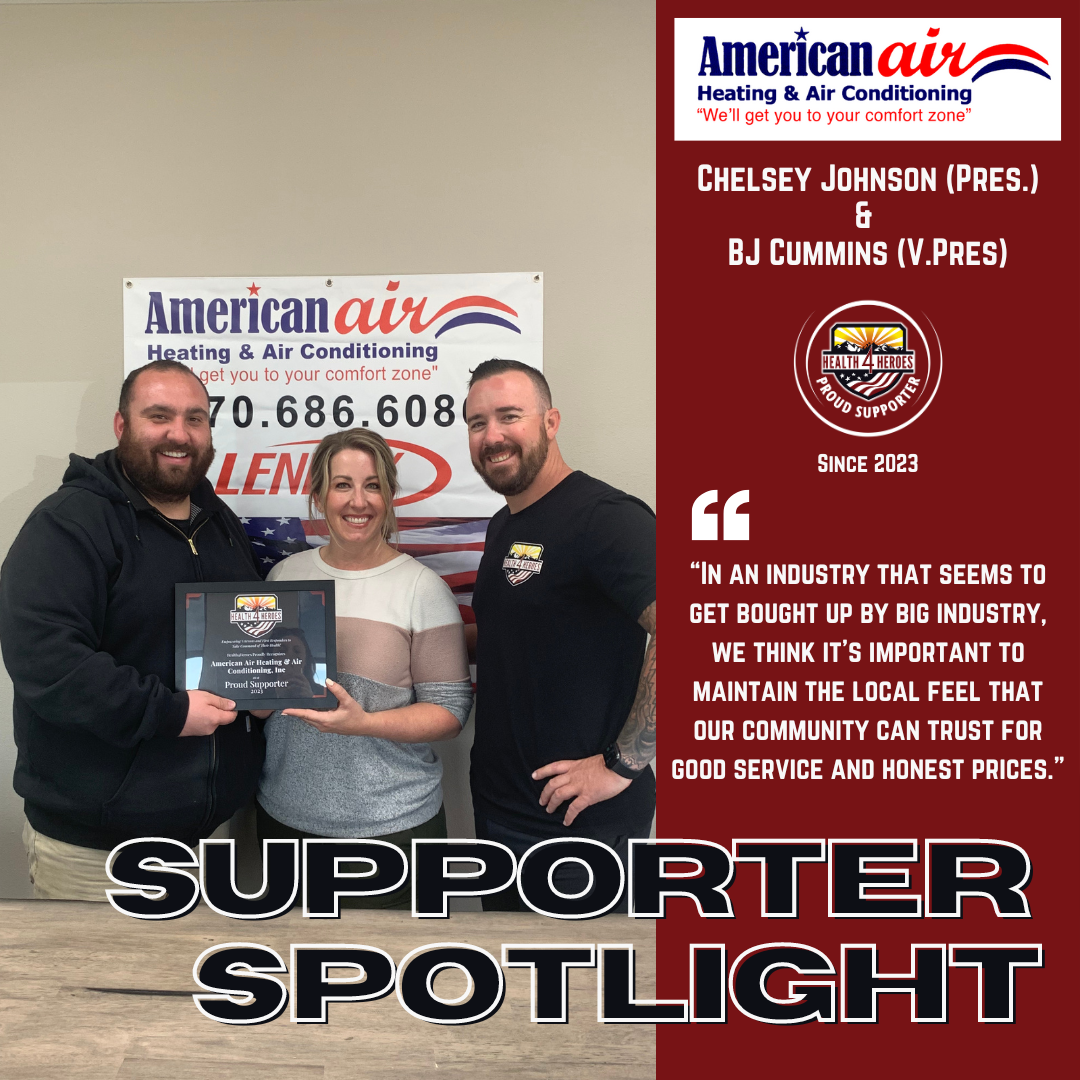 American Air Heating and Air Conditioning
Chelsey Johnson & BJ Cummins
Windsor, CO
Proud Supporters since 2023
Over shared martinis, Chelsey Johnson and BJ Cummins decided they would go into business together some day. Both had similar values in business and community service. Thus American Air Heating and Air Conditioning, Inc, was born. "In an industry that seems to get bought up by big industry, we think it's important to maintain the local feel that our community can trust for good service and honest prices." Begun in 2002, American Air Heating & Air Conditioning, Inc., boasts North American Technical Excellence (NATE) certified technicians who are required to maintain constant training and education in the field so they can bring the best service to their clients and community.
Health4Heroes is lucky to call them supporters. As a matter of fact, American Air Heating & Air Conditioning, Inc., offers a discount to all military, veteran and first responders. "We'd love to remind our customers to thank a soldier or first responder for protecting our country and our freedoms." U.S. Army Staff Sergeant (SSG) Chris Birdwell, a Bronze Star and Purple Heart recipient, is dear to the hearts of the owners. He was killed in Afghanistan in 2012 while securing the area after an Improvised Explosive Device (IED) stalled his convoy. Because of Johnson and Cummins' great respect for men and women like SSG Birdwell, part of the DNA of American Air Heating & Air Conditioning, Inc., includes daily gratitude to American national and local heroes and their family members.
American Air Heating & Air Conditioning, Inc., would like to remind you that it's "never too late to have your Heating, Venting and Air Conditioning (HVAC) checked!" They offer a "comprehensive array of installation, repair, and maintenance services for heating, cooling, ventilation, and air quality systems." They Lennox Premier dealers, and they maintain all makes and models. Request services online by visiting: americanairheatingco.com; or call for a free estimate: (970) 686-6086.