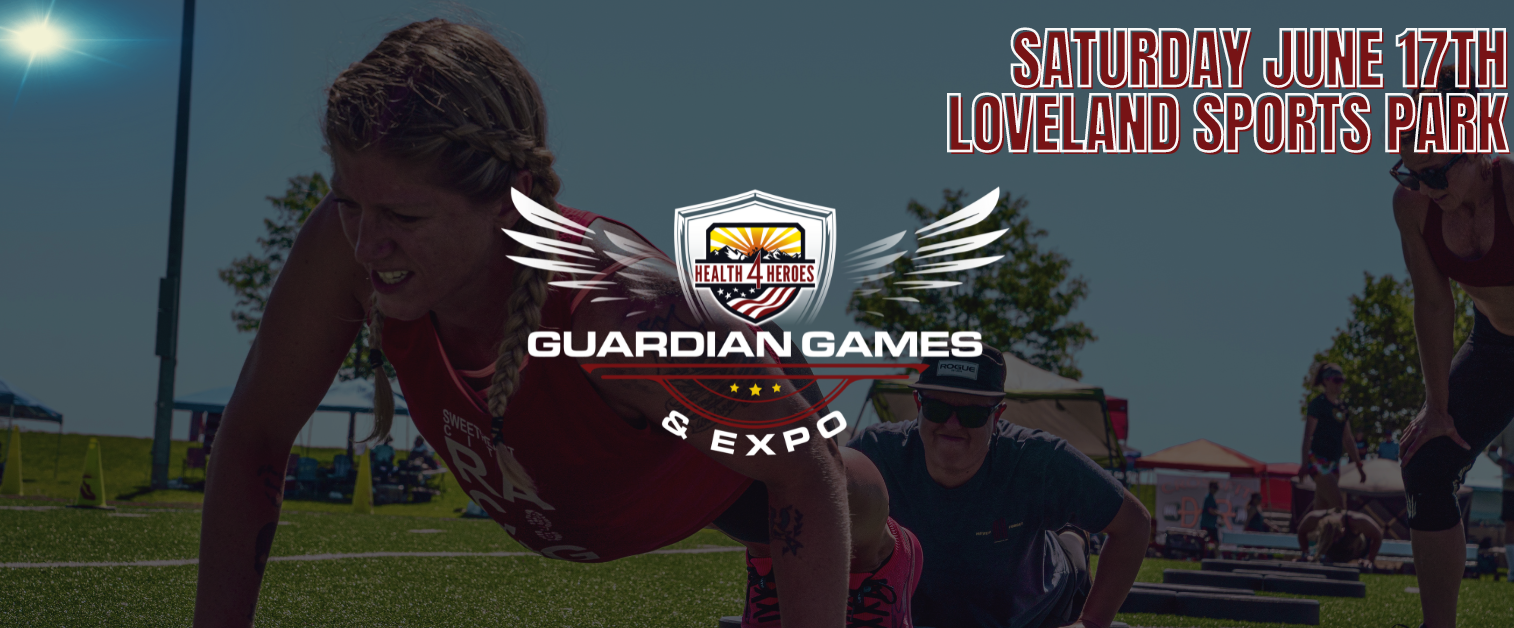 Health4Heroes Invites Competitors, Sponsors and Vendors to Register for 2nd Annual "Guardian Games & Expo"
Loveland, CO, March 3, 2023 – Northern Colorado non-profit "Health4Heroes" will host the 2nd Annual Military and First Responder-inspired Guardian Games & Expo, a large scale, high-energy fitness competition and regional showcasing event. This 100+ vendor showcase and team competition is open to the public, Saturday, June 17, 2023, at the Loveland Sports Park, 950 Boyd Lake Avenue, Loveland, CO, from 9am-2pm. Registration is now open for all interested competitors, sponsors and vendors.
The Health4Heroes Guardian Games & Expo is a health promotion event designed to engage the community in healthy competition, activities, games and social interaction while showcasing support for our local heroes: Military service and Veterans, Firefighters, Law Enforcement, Paramedics and Emergency Medical Technicians (EMTs).
The Guardian Games Fitness Competition will host co-ed teams of three who will compete in one of three divisions: Open, Competitive or Masters (age 40+). Teams will race in 10 different Military and First Responder functional fitness workouts for prizes, medals and photos. "We're gonna push. We're gonna pull. We're gonna drag. And we're gonna have some fun," says Guardian Games Co-Director, Dan Hadley.
The Guardian Games Expo will hold space for static vehicle displays, demos, games, kid zone, music, vendors, beer garden and more. This is a great opportunity for the health and wellness industry, Veteran and First Responder service and support agencies, as well as all other freedom-loving businesses in Northern Colorado to market their products and services while showing their support. "Most importantly, we are aiming to highlight our local service members and bring the community together," says Guardian Games Co-Director, Clayton Foster.
Competitors:
$75/person (discount code available for Military, Veterans and First Responders)
Early bird registration: March 3rd-14th, 2023
Regular Registration: March 15th-May 15th, 2023
Price Increase after May 15th, 2023, so enter your team now!
Vendors:
$150 for the entire day (discount code available for Military, Veteran, and First Responder owned businesses)
Deadline for vendor entries: May 17th
Sponsorships:
There are several sponsorship packages available providing maximum exposure during the event. Flex Your Support with one of the following packages:
Presenting $5,000
Gold $2,500
Silver $1,000
Bronze $500
Deadline for sponsorship: May 1, 2023
Health4Heroes is a Northern Colorado based, 501c3, Social Impact Organization that empowers Veterans and First Responders to take command of their health, reduce the impact of service and increase longevity through community, connection and education.
For registration and more information about Health4Heroes Guardian Games & Expo, please visit Health4Heroes.org/GuardianGames
Or contact: GuardianGames@Health4Heroes.org, or call (970) 661-3553.
Facebook & Instagram @health4heroes.guardiangames
Press Contact: Nicholas Dunagan
President and CEO, Health4Heroes
E: GuardianGames@Health4Heroes.org
O: (970) 661-3553