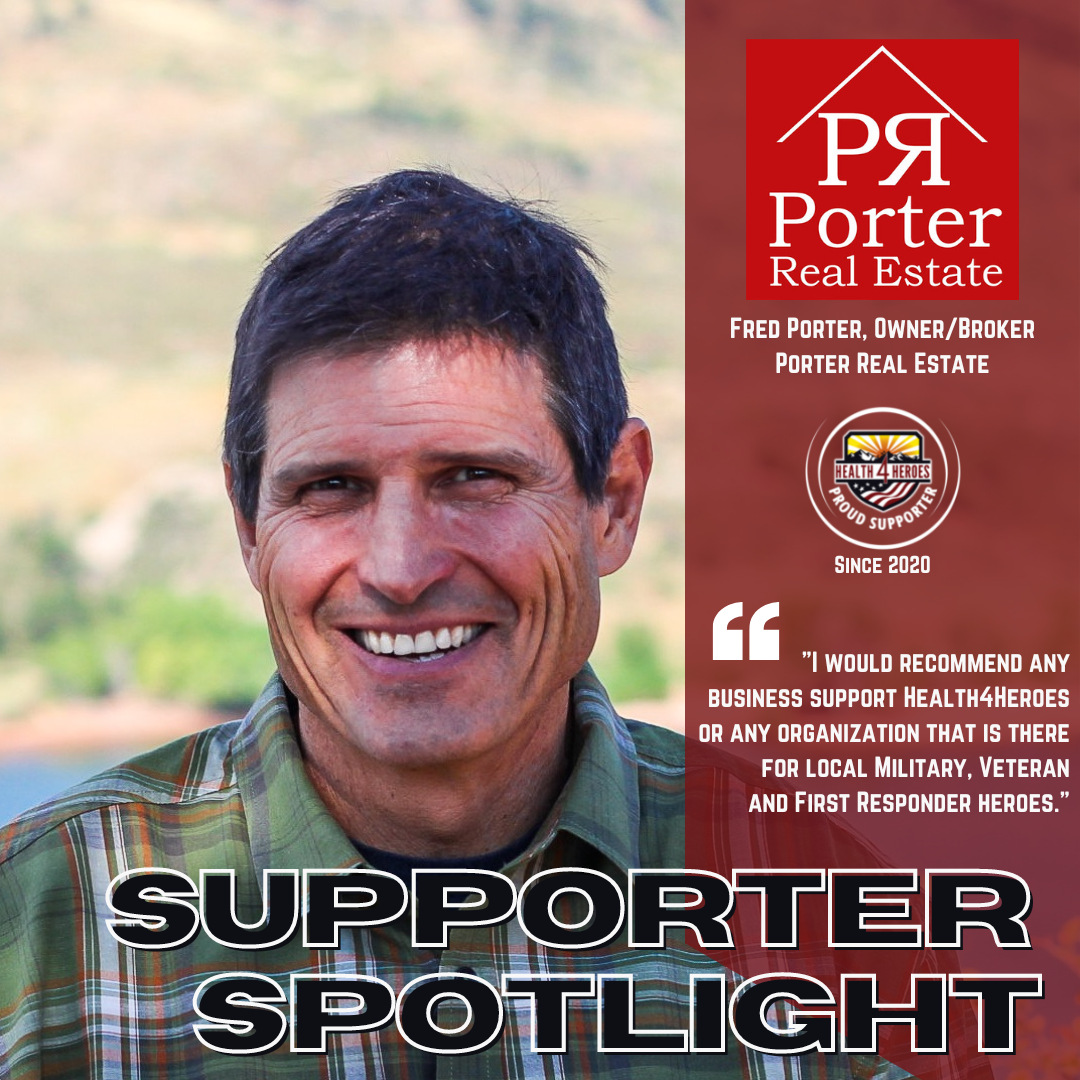 Porter Real Estate
Fred Porter, Owner & Broker
Fort Collins, CO
Proud Supporter since 2020
Fred Porter, a top-producing Realtor in Northern Colorado since 2019, first became interested
in helping out Military, Veterans and First Responders when he was a kid. News reports of
soldiers and airmen returning to hate after serving their commitment in Vietnam coupled with
life as the son of a Firefighter moved him to discover ways to support American patriots as an
adult. Fred was moved when he saw how anger misdirected to the wrong people could be
hurtful and even dangerous. "I am, of course, a supporter of peace," he said, "but that really
touched me at a young age."
After meeting Health4Heroes CEO and President, Nick Dunagan, at his local gym, Fred decided
to do something hands-on to support our northern Colorado Heroes. "I donate $1,000 to
Health4Heroes from any closings" of those who mention it to him. "I would recommend any
business support Health4Heroes or any organization that is there" for local Military, Veteran
and First Responder heroes."
Porter Real Estate champions first-time residential buyers as well as anyone who wants a
Realtor to fight for the best for his clients. With an emphasis on "expertise, honesty, integrity",
Porter Real Estate works in northern Colorado—from Red Feather to Berthoud, Estes Park to
Greeley, and anywhere in between—but can make anything work for its clients. As a matter of
fact, Fred himself has been known to swing a hammer or move a piano when someone has
needed it. Because of this type of commitment, Porter Real Estate is proud to have sold more
than $40 million in Northern Colorado Real Estate since its opening in 2019.
If you are interested in finding out more about Porter Real Estate, go to
www.porterrestate.com to browse listings or find any information you may need to accomplish
your real estate goals. You can also contact Fred Porter directly: fred@porterrestate.com or
(970) 231-4272.