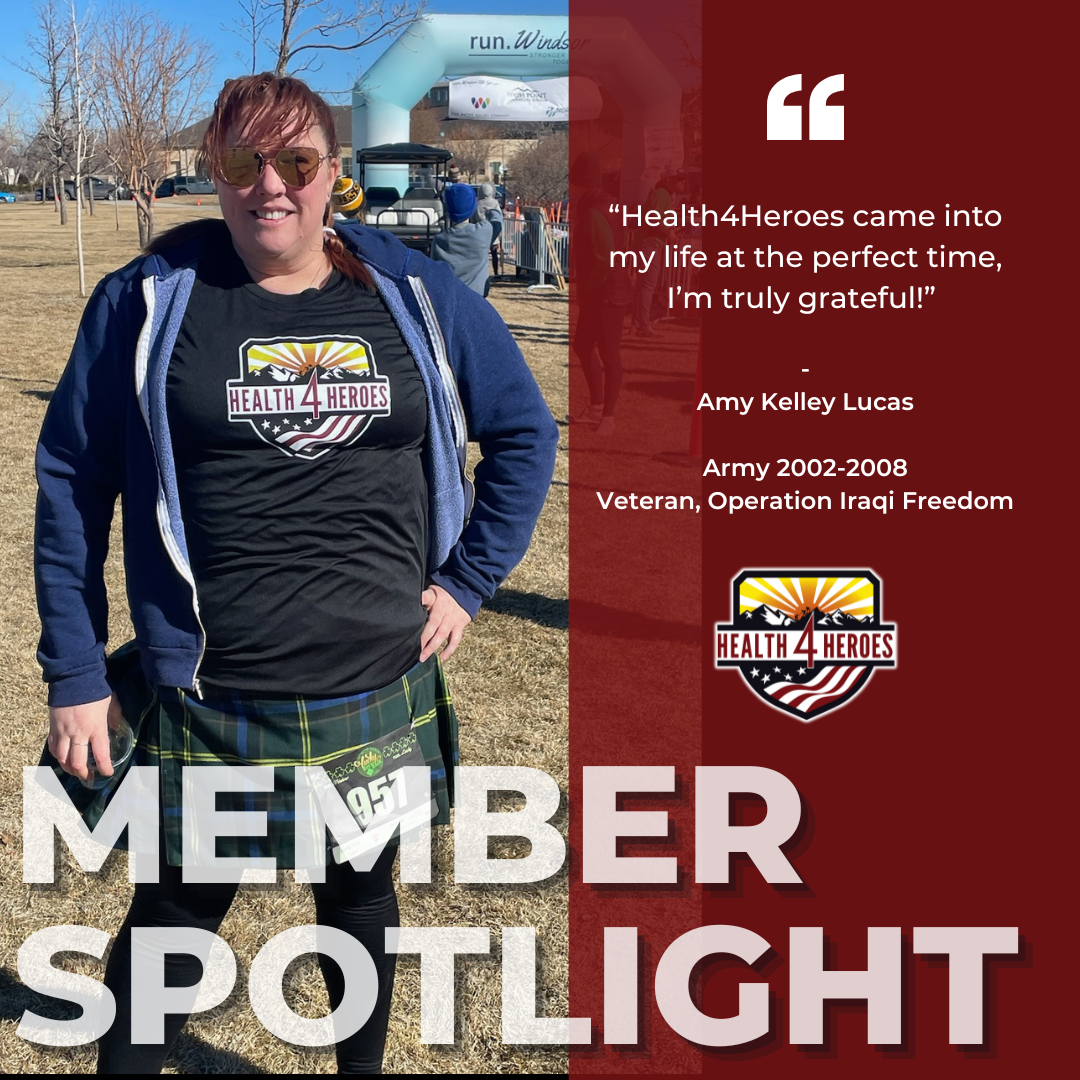 Amy Kelley Lucas
Army 2002-2008
Veteran, Operation Iraqi Freedom
"Health4Heroes came into my life at the perfect time, I'm truly grateful!"
Meet Amy Kelley Lucas, our spotlight member of the month. Amy served as active-duty Army for 6 years, between 2002-2008, where she was stationed in Germany and deployed to Iraq for "about half of [her] service." Nowadays, a northern Colorado resident for over a decade, Amy is happy to report she is "embracing slow living with lots of back porch sunset sitting and campfire gazing" alongside her husband and daughter.
Amy connected with Health4Heroes at the perfect time of her life. She had just re-started her running journey with a goal of training and finishing a 5K by March 2023. It wasn't the competition that motivated her, though. Instead, she had come to realize how "the benefits of running and any physical movement has aided [her] mental health more than anything else [she'd] ever tried." Luckily she met Health4Heroes staff at the February Sweetheart Festival in Loveland and signed up to be a member that day. "I was absolutely thrilled to discover that other Health4Heroes members were running/walking/competing at the Lucky Brew race with me" once her March 5K goal date arrived.
So far, Amy's favorite part about being a Health4Heroes member is, of course, being able to run races with Health4Heroes covering her entry fee. In her short time as a member, her family and she have also already played together at the Health4Heroes Summit bowling night. Amy said, "Veterans, First Responders, and families… If you're looking for a unique kind of group that has an abundance of activities to choose from, topped with awesome member camaraderie, you've found it with Health4Heroes!"
Health4Heroes has so many activities available for all its members to sign up for. All that's missing is you and your special people.
For information on upcoming events, go to: https://health4heroes.app.neoncrm.com/np/clients/health4heroes/eventList.jsp
For information on becoming a member, go to: https://health4heroes.org/Join/