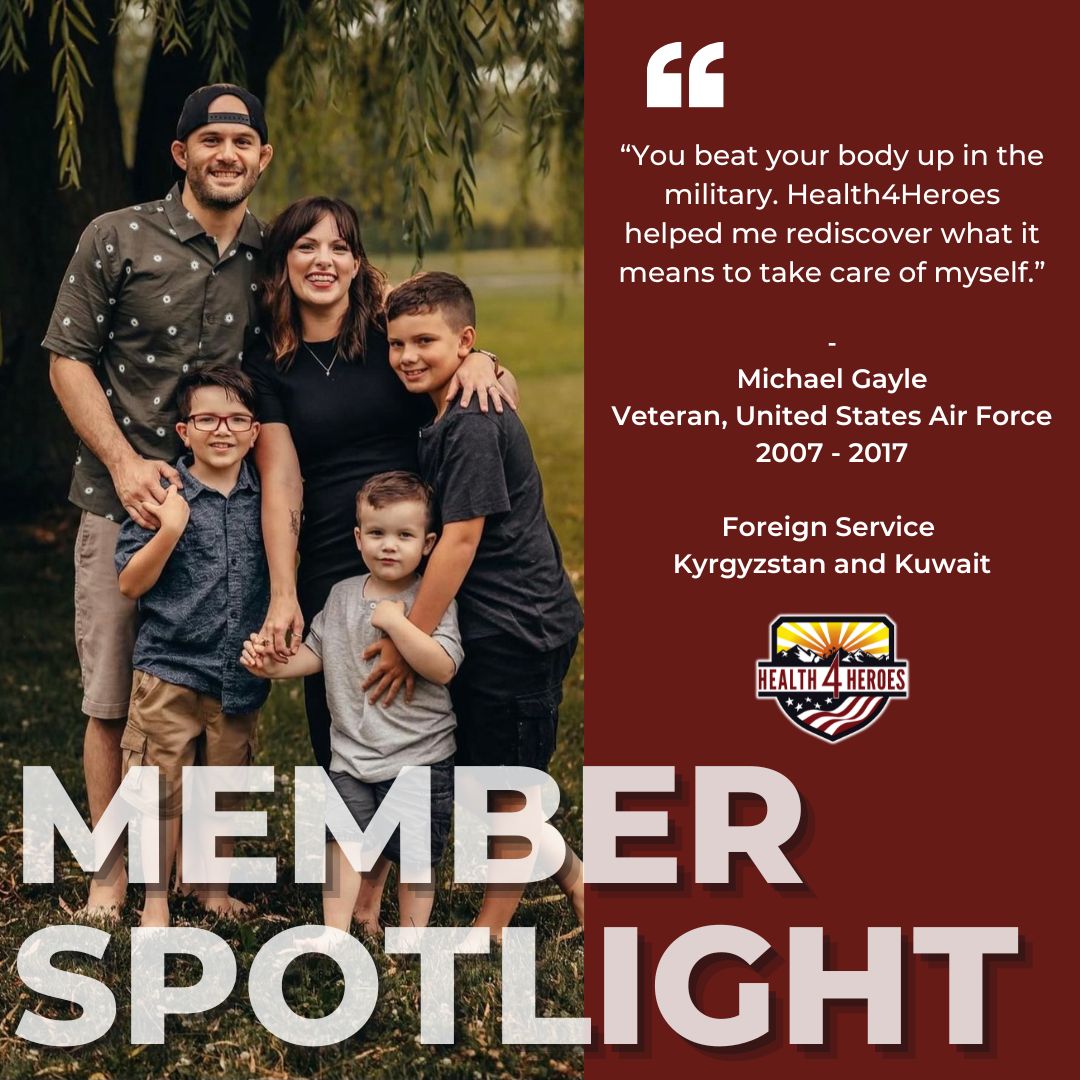 Michael Gayle - Member Since 2020
Veteran, United States Air Force (2007 - 2017)
Foreign Service: Kyrgyzstan and Kuwait
"You beat your body up in the military. Health4Heroes helped me rediscover what it means to take care of myself."
Meet Michael Gayle, the Health4Heroes member spotlight for the month. Michael grew up in Hawaii, the son of a career Marine. As an adult, he enlisted in the Air Force where he worked in Air Transport and Logistics, met his wife, deployed enough times for himself and his family, and separated from the military after 10 years. After that, his family bounced around in search for their next home base, finally arriving in Fort Collins where he says, "We love it here; we're not going anywhere."
Michael feeds his family working at Stretch Zone in Fort Collins as a "stretch practitioner", using patented equipment, methods and protocols to manipulate muscles to increase the active range of motion. But what Michael is most passionate about is Brazilian Jiu-Jitsu! As a matter of fact, he spends four-to-five nights per week at his gym, teaching and building up his own skills as a soon-to-be black belt, a rank considered "expert" and often taking 7-10 years to achieve. Brazilian Jiu-Jitsu is a self-defense martial art and combat sport focusing on grappling, ground fighting and submission holds.
Michael and his family pursued Health4Heroes when they first moved to Fort Collins in search of the easy community they had missed outside of the military. At first, they were in yoga with other Health4Heroes members most nights of the week seeking out connections and wellness. "You beat your body up in the military," and you don't even think about it, Michael said. Health4Heroes helped him "get his health back on track" by getting him to "rediscover what it means to take care of" himself. In his time with Health4Heroes, he has learned that the average military member takes anywhere from three to six years to reacclimate and thrive in civilian society, and that's "if they figure it out" by actively pursuing wellness and community.
His advice to other military, veteran and first responders has many points. First, working in a high-stress environment tends to put a warrior in a habit of always seeking out stress in order to feel like they are valuable to the world. "I have learned that I don't need to be successful; I need to be happy." Happy in my body, activity levels and relationships is "successful". Second, in fight-or-flight communities, such as in Military and First Responders, friendships often get thrust upon you. It's "easy" to find friends if you are all fighting for the same cause. But in civilian life, "you have to do work to gain friendships." Michael says, "I suggest you 'go for broke'; get plugged-in to community…. It's nerve-racking to put yourself out there—it was for me—but we all want the same thing." And that thing is true wellness of body, soul and relationships.
Michael also suggests members take advantage of Health4Heroes' free community-building events, such as the Snowy Range excursion he loved where he went snowboarding and met some "cool people".
For information on upcoming events, go to: https://health4heroes.app.neoncrm.com/np/clients/health4heroes/eventList.jsp
For information on how to become a member, go to: https://health4heroes.org/Join/