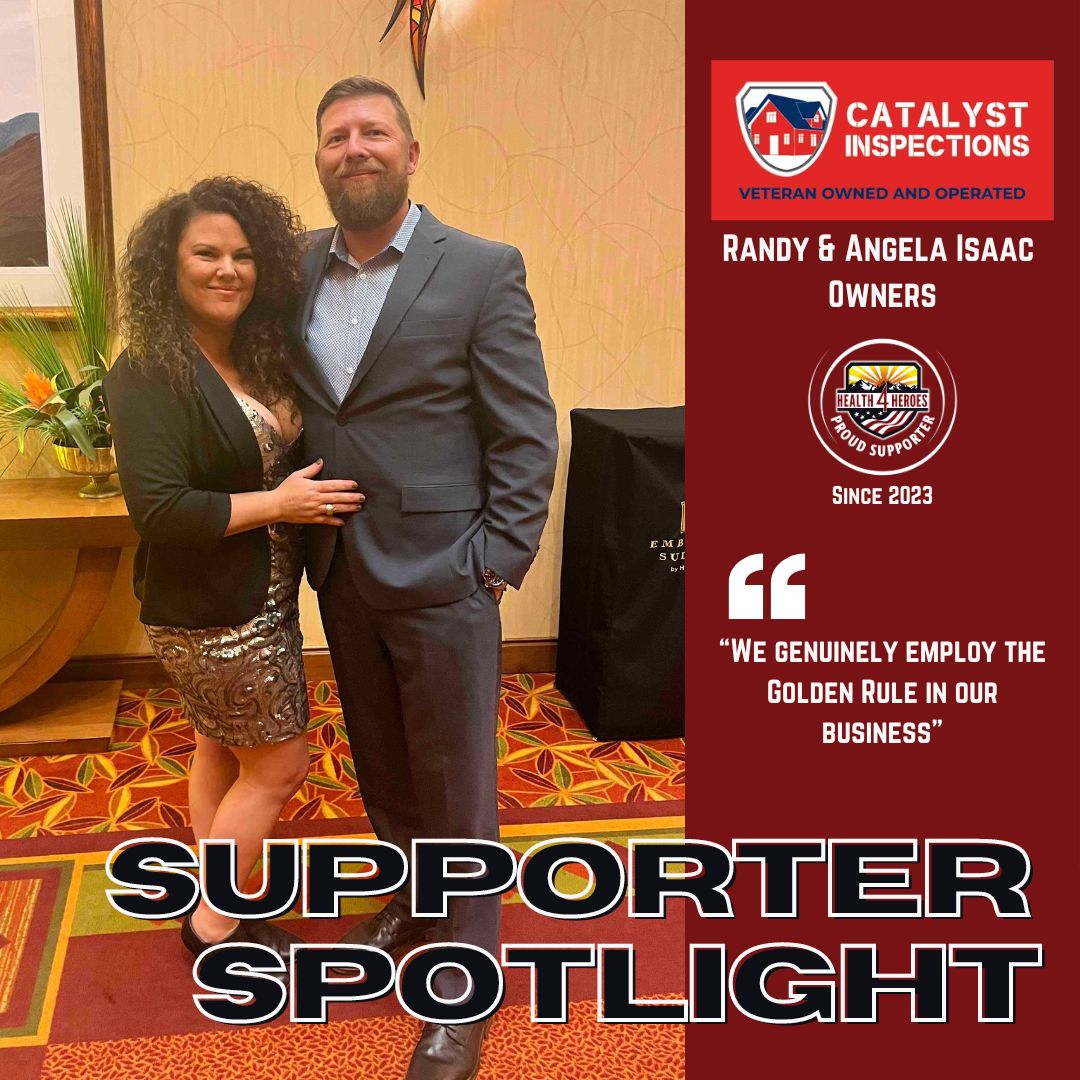 Catalyst Inspections
Randy & Angela Issac, Owners
Loveland, CO
Proud Supporter since 2023
"We genuinely employ the Golden Rule in our business"
Catalyst Inspections already has a reputation of community service as owner Randy Isaac and Angela, Randy's wife and Catalyst Inspection's marketing specialist, are members of the Loveland VFW (Veterans of Foreign War) and supporters for Realities for Children. So, after running into Health4Heroes CEO and Founder, Nicholas Dunagan, time and time again at various community networking events, it seemed evident they needed to partner with Health4Heroes, especially since both Randy and Angela have a heart for public servants.
This heart grew from the fact that Randy and Angela both served in the Air Force themselves for five years in Altus, Oklahoma. After that, they decided to land in Loveland, where they have lived since 2008. Together, the Isaacs have worked in construction, inspections, marketing and networking since then. Four years ago, after hearing from many clients how helpful it would be for Randy to do the inspections himself, the Isaacs took the plunge and launched Catalyst Inspections, with an emphasis on building real relationships, doing their best work and getting it done fast.
Now Catalyst Inspections is known as an InterNACHI Certified Company that specializes in Residential Home Inspections. Setting them apart from other inspection services includes their commitment to "genuinely seek to establish real relationships", a love for helping people and making the job "fun", thorough inspections with immediate results, and limiting the number of customers per day so Catalyst can ensure their client's experience and satisfaction are "#1". To state it simply, Catalyst Inspections "genuinely employ[s] the Golden Rule in [their] business."
Randy Isaac offers a 10% discount to Health4Heroes members and stands ready to inspect your home. If you are interested in learning more about Catalyst Inspections, please visit https://catalystinfrared.com or call their office: (970) 599-1871.