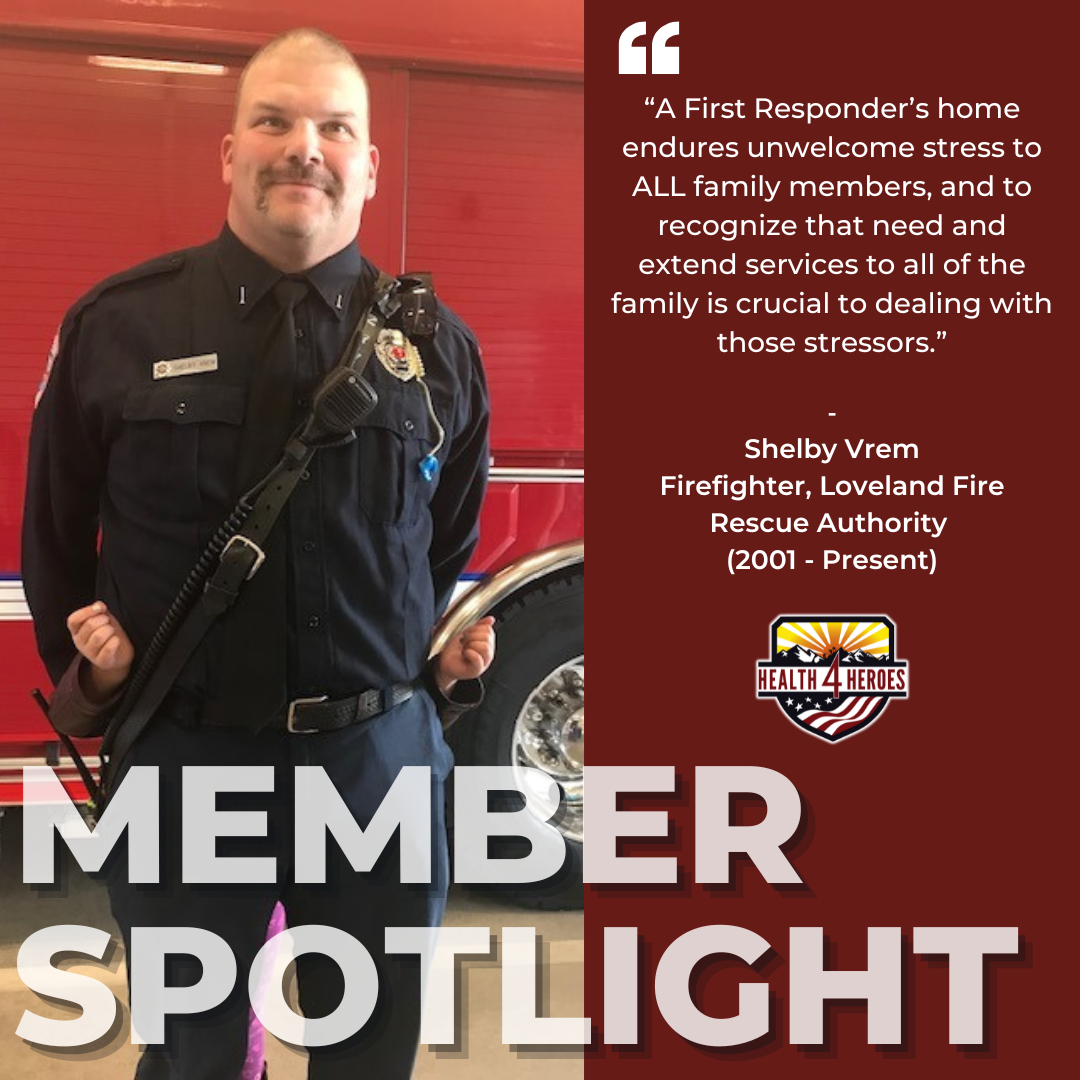 Shelby Vrem - Member Since 2022
Firefighter, Loveland Fire Rescue Authority (2001 - present)
Raised in North Dakota, Shelby Vrem became a volunteer firefighter and Emergency Medical Technician (EMT) while he was in high school. This "ignited" his passion for firefighting, which led him to pursue his career as a current Lieutenant with the Loveland Fire Rescue Authority. It took him eight years of volunteer service, an Associate's Degree in Fire Science, and years of hard work to get where he is today. But his family of four kids and his wife of 25 years are all in this together. As a matter of fact, three of his four children are current EMTs, following in their father's footsteps.
Shelby and his family have taken advantage of many of the Health4Heroes events and benefits. "One thing I really commend Health4Heroes on is that you are so welcoming to the entire family unit." The Vrem family like to express how grateful they are for the Health4Heroes local supporters and partners offering incredible discounts, especially for the services that reduce stress. "A First Responder's home endures unwelcome stress to ALL family members, and to recognize that need and extend services to all of the family is crucial to dealing with those stressors." Most recently his family enjoyed the April (free!) mini golf and games social, but Shelby says he's "fairly certain" June's (free!) whitewater rafting trip will top that one.
As advice to other Health4Heroes members, Shelby says, "Keep showing up and keep promoting Health4Heroes." Public servants can often live an isolated life due to odd schedules and unimaginable situations "civilians" have trouble relating to. Isolation is never good for either heroes or their families. But "the world is full of connections… we have to keep asking for help and support." The opportunities offered through Health4Heroes "to get out in the community more and expand our support network have been amazing." These are services available to you, too, as a Health4Heroes member.
To find ways to join Shelby and his family in all Health4Heroes has to offer, go register for any of the events listed here: https://health4heroes.app.neoncrm.com/np/clients/health4heroes/eventList.jsp
A list of our local service partners is here: https://health4heroes.org/our-partners-supporters/